Gun enthusiasts can never agree about the best home defense firearm because every category of weapons has its own pros and cons. Handguns are easy to wield, rifles are more accurate and shotguns are more powerful, so which should you consider? First you must understand the challenges facing you when defending a home at night with loved ones around you and the relative strengths and weaknesses of each weapon type in these situations. Here are the issues relevant to each category of firearm:
The handgun:

For most people their first self defense firearm will be a handgun. Small, portable, and easy to carry concealed, handguns are the most common firearm purchased for self defense. I
n many ways handguns are also ideal for home defense. When "things go bump in the night" and you have to check your house for intruders (called "clearing a house"), the smaller handgun is better for concealing near your bed, wielding when navigating around corners or opening closed doors and operating one-handed if you also have to grab a child.
When choosing a caliber of gun, remember that you probably won't be wearing ear and eye protection like on the range, because you have to be able to hear the tiniest sounds, and see shadows and movements. Although there is military-grade eye and ear protection for these scenarios, they are expensive and you (and your family) might not have time to don them during an encounter. R
emember too that gunshots are often louder within small spaces of the house. 9mm rounds usually only leave minor ringing compared to larger caliber handguns like a .45 or .357 magnum (revolvers are louder in general). There is a big step up in noise produced by the powerful rounds in the rifle calibers, but a shotgun report is very loud can leave you temporarily deaf (or worse). Find a balance between bigger caliber weapons with "knock-down" power and the ringing it leaves in your unprotected ears after each shot.
If you do choose a large caliber weapon consider subsonic rounds (less than 1000 fps) which are quieter because they don't make the loud "crack" as the bullet breaks the sound barrier. All gunshots still make quit a pop unless you invest in a silencer. Silencers are legal in 39 states and becoming quite popular among gun enthusiasts despite the $200 "tax stamp" that must be paid to the government each time you buy one.
The rifle: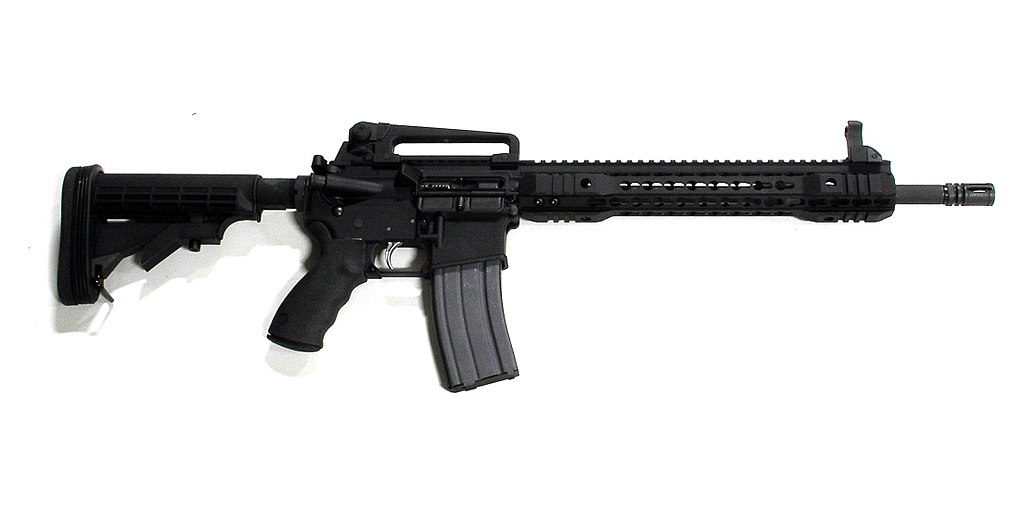 (image src)
A rifle such as an AR-15 might not seem like your first choice, but it can perform well in home defense too. Plenty of military and police have learned to effectively clear even tight spaces with a longer weapon, and until recently, they also never carried ear protection. The principle advantages of a rifle are increased accuracy, more firepower and 30 round magazines. If your intruder is armed and you get caught in a firefight, your rifle will give you a decided advantage over a handgun.
Military-style rifle rails are often cluttered up with expensive and unnecessary accessories, but a tactical flashlight is a valuable addition. The idea is to clear your house without turning on interior lights, since these light up the room you are in and illuminate yourself as a target. Instead try to surprise the intruder with a sudden flash from a powerful tactical flashlight to blind them as you confront them with a command to stop or freeze. This light is important to identify the intruder from friends or family, but the blinding light won't let him see (or aim at) you easily. SureFire brand lights are the best out there, but they cost upwards of $200.
The shotgun:

Many people like shotguns for home defense because nothing compares to its "knock-down" power and its effectiveness in close quarters. Clear a house with a long gun can be a little cumbersome, but still possible, especially if done in pairs. If you live in an apartment you won't have to worry about stray bullets going into the neighbor's if you use birdshot rounds, but remember they are only really lethal to about 5 yards. Part of the benefit of shotguns is the variety of shells made for them, particularly if you have a 12 guage. The best for home defense if 00 ("double ought") buckshot (lethal to 30 yards) or slugs (100 yards). Shotguns don't have to cost much (like the pump-action Maverick 88 at under $250).
The downside to the power of a shotgun is, of course, the noise. Subsonic rounds help considerably but there isn't much in this category to choose from. Federal's Top-Gun 900 fps birdshot round is popular with scattergun enthusiasts, but to get larger buckshot in a subsonic shell you may have reload them yourself. Ballistic Products has reloading information for several kinds of subsonic scattershot rounds.
As you can see, every weapon has pros and cons. The best firearm for you will depend on your specific situation and familiarity with your weapons. Ultimately the best weapon is the one you feel comfortable grabbing in the dead of night and wielding accurately even during misfires. Can't decide? You don't have to choose just one if you can keep the others accessible. In fact, a popular competition is the three gun shoot that tests people in each of these weapons and highlights each weapon's strengths. [END]